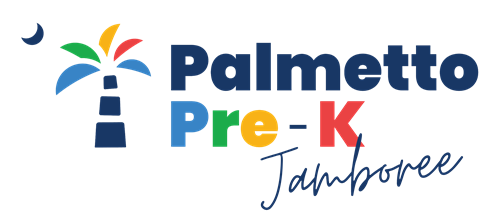 Join us for the
2024 Spring Palmetto Pre-K Jamboree
(HYBRID)
Friday, March 1
The Palmetto Pre-K Jamboree is a FREE professional development with top-notch national and state-level presenters. Any and all South Carolina pre-kindergarten teachers, support staff, and administrators are invited to join to help prepare for a fantastic 2024-2025 school year! Attendees will experience an empowering day of learning to support and uplift the community as by helping young children learn and grow. All attendees can qualify for S.C. Department of Social Services Endeavors credit hours.
The Spring 2024 Palmetto Pre-K Jamboree will be hybrid. Two keynote sessions will be available virtually via Zoom and in-person via large screens at the three locations across the state while the two breakout sessions will only be available for those attending in-person. Also, those attending in-person will receive a complimentary boxed lunch and a Jamboree t-shirt.
Soon, a RESERVATION link will be available so you can let us know you would like to attend. Session information will be added below as it comes available. Mark your calendar today and make plans to attend the 2024 Spring Palmetto Pre-K Jamboree. We can't wait to see you in-person!