What is Palmetto Pre-K?
Palmetto Pre-K is a statewide initiative to serve families of 3- and 4-year-old children and system navigators with a parent portal to check eligibility, locate and access the free public Pre-K programs in the state, support families through the transition to kindergarten and provide high-quality trainings to early childhood professionals serving 4-year-olds.
What are the three pillars of Palmetto Pre-K?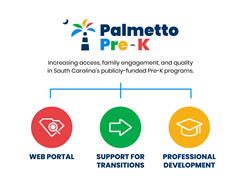 Palmetto Pre-K Online Portal
Families are able to go PalmettoPreK.org to determine their eligibility for free (publicly funded) preschool and locate high-quality educational programs in their neighborhoods and near their workplaces. The web tool matches eligible preschoolers with an appropriate program slot.




Palmetto Pre-K Transitions
Family-friendly, accessible guidance and navigational tools to help parents and caregivers successfully support their children's transition from Pre-K to kindergarten. Efforts will include additions and new features on the Palmetto Pre-K and First Five SC websites. The  SC PreK to Kindergarten Transition Plan: Family Engagement,  was developed by the Palmetto Pre-K Transitions Workgroup, which is comprised of state early childhood system leaders, state agency personnel, educators, administrators, community and family advocates, and other stakeholders. The Plan demonstrates the state's collective capacity and commitment to ensure that every child and family has the resources needed to learn, flourish and thrive. 
Palmetto Pre-K Jamboree
The top-flight professional development conference offered annually to preschool teachers and administrators throughout South Carolina.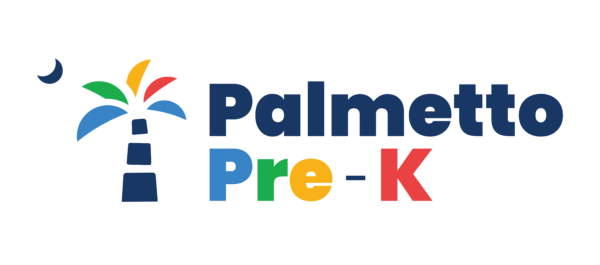 A planning committee with representatives from the four agencies that provide publicly funded preschool in South Carolina (Department of Education, First Steps 4K, Department of Social Services, and Head Start Collaboration Office) collaborate to plan the day. Past conferences have offered top-notched sessions such as, Conscious Discipline, ACEs (Adverse Childhood Experiences) Awareness, Powerful Play, Meaningful Early Learning Literacy Experiences and SC Early Learning Standards in 4K.