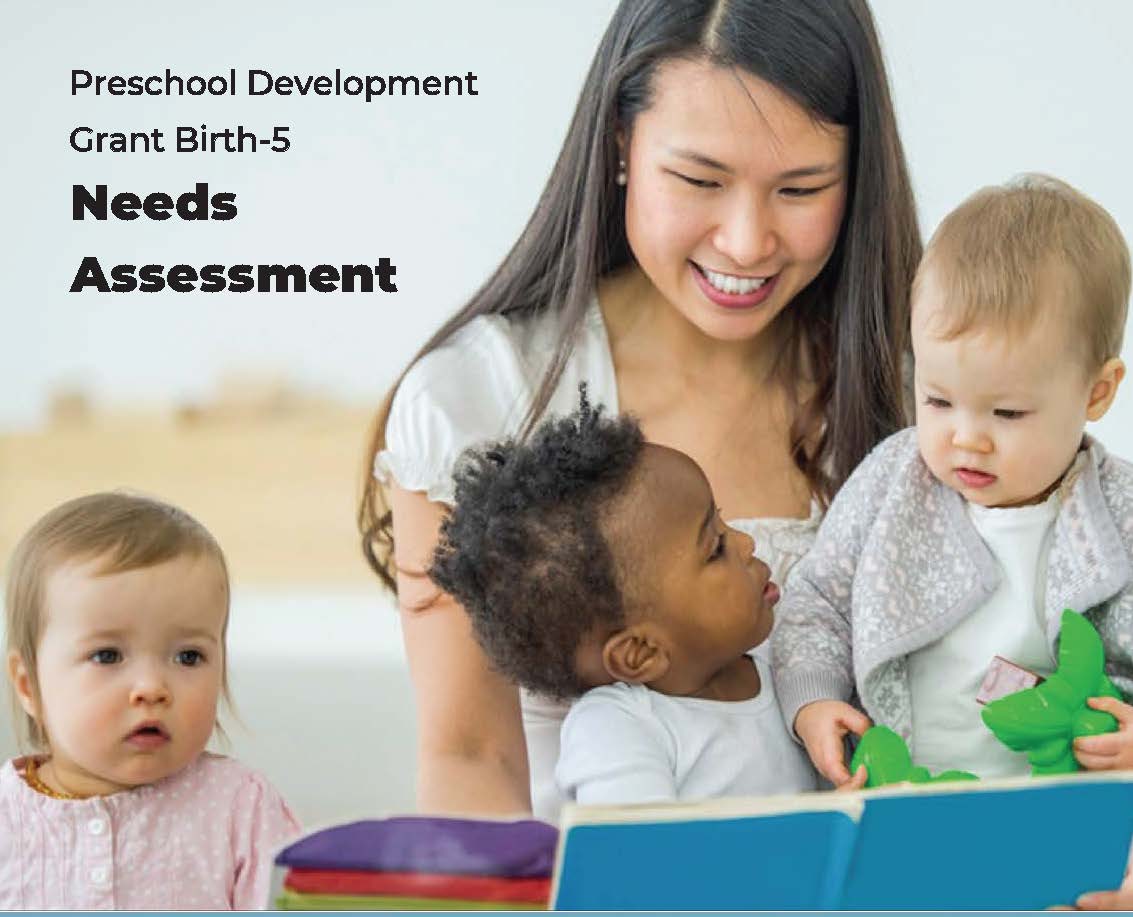 In 2019, a statewide needs assessment was conducted as part of the Preschool Development Grant (PDG) Birth through 5. Through 15 regional meetings across the state with 440 participants, 2,680 survey responses and focus groups that included 1,495 participants from all 46 counties, information was gathered to determine focus areas. The Institutions of Higher Education Collaborative, led by Leigh D'Amico with her colleague Xumei Fan at the Research, Evaluation, and Measurement at the University of South Carolina, and with South Carolina Department of Social Services and South Carolina First Steps helped identify areas to explore further. Three areas of need were identified: early childhood education, health and wellbeing, and family and community.
A second round of the state's Preschool Development Grant Needs Assessment was launched in 2021 to delve deeper into the needs identified in the initial assessment to shape the organizational priorities of the state's strategic plan. Phase One of this round consisted of a lengthy, more-detailed survey which closed on November 15 with more than 2,700 parents and caregivers representing all 46 South Carolina counties responding.
In the area of early childhood education, respondents indicated the need for the most assistance in knowing what to do for child to be ready for kindergarten, finding community programs or services that support early learning, finding resources or materials to help child learn at home and paying for high quality early care and education programs. In the area of health and wellbeing, respondents indicated the need for the most assistance in understanding how children develop, involving child in physical activities that are age appropriate, paying for healthcare for child, finding early intervention programs, and paying for nutritious foods. In the area of family and community, respondents indicated the most need for knowing how to be a more effective parent, building strong relationships with child, learning how to be an advocate for child and furthering career education/job training to support family. In the last five years, about 40 percent of parents and caregivers reported experiencing adversity such as mental illness, housing insecurity and job loss.
Planning for Phase Two of this round of state's needs assessment is well underway and will consist of focus groups and interviews. The final phase will be a series of stakeholder meetings where findings will be presented, and feedback will be shared. The findings are intended to help facilitate collaboration so that stakeholders can explore where they are addressing/ meeting needs of parents and caregivers; identify additional areas of focus to better understand needs identified and begin the work of aligning current/future strategies with the state's strategic plan. The assessment is funded by the three-year Preschool Development Grant Birth-5 which was awarded to the state to help coordinate the efficient use of existing resources to improve the participation of children, particularly vulnerable, underserved, or unserved children and children with or at risk for disabilities, in multiple early childhood programs. A presentation on the Round Two survey findings was recently shared by Dr. D'Amico at the 2021 SC Summit on Early Childhood can be viewed at https://youtu.be/uCMgjjrUzDI. Questions and/or ideas can be directed to DAMICO@mailbox.sc.edu.